Greetings
Wishing to make more people to know about excellent
ingredients from Ehime—
We, "Kaishū" has been keeping this faith since we started our
restruarnt in 1983.
Starting at a small town, Higashino in Matsuyama City,
we moved to Ichiban-chō the downtown,
and this time we have restarted at Dōgo area,
we will never change our wish.
Unique landforms of Setouchi,
sea food born from the tidal currents,
wild game nurtured by mother nature,
vegetables, and river fish .........
We believe that our prefecture which has a beautifully
harmonized triplet of the sea, the mountains,
and the rivers is precious.
We aim to create the restaurant with making use of those
ingredients and to get the reputations;
"It is good to come to Ehime" "Living in Ehime is so nice".
It might be an exaggerative expression, but we are prepared
to be responsible for the "Cuisine" of this town Dōgo,
the entrance to Ehime. We will continue to make efforts,
so please come and enjoy our menus of "Kaishū".
Making Ehime be more proud.
Dōgo "Kaishū"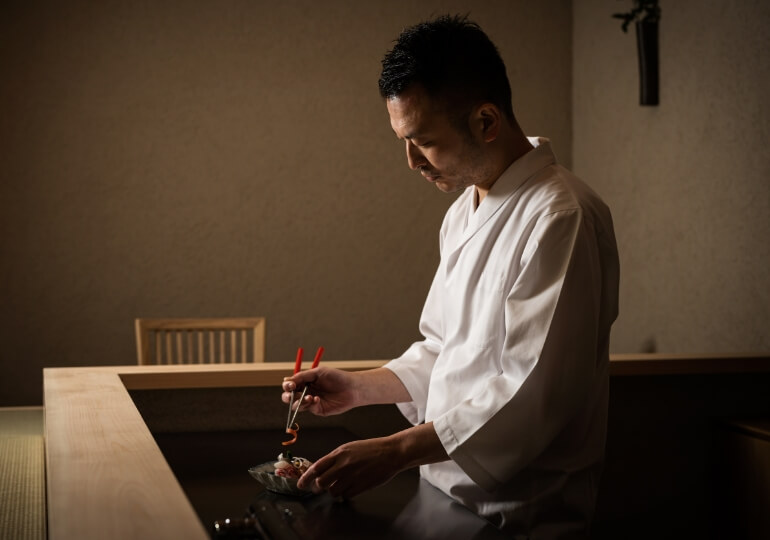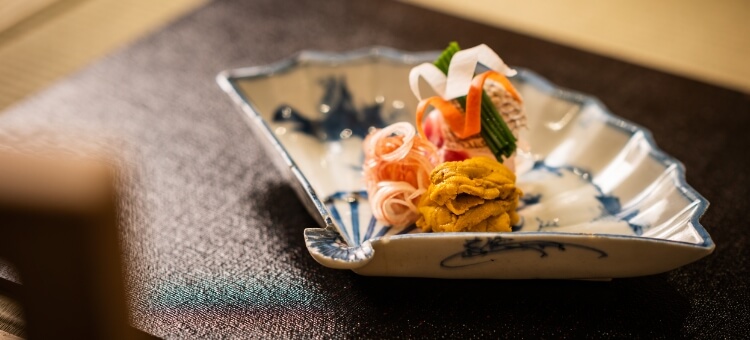 Ehime
The Set Menu Courses & Price
We serve all the meals only as a course cuisine, please enjoy the rich seasonal tastes of Setouchi's ingredients.
All set menus contain 12 ~15 of various dishes, each dish served in a small helping.
Menu differs in contents by the prices.
10,000

~

12,000

yen course

15,000

yen course

19,000

yen course
*Prices may change slightly depending on purchasing conditions.
*All prices are exclusive of taxes.
The Drink Menu
We serve sake, wine also, various kinds of other drinks. Please let us know in advance if you would like to bring some in.
Additional Information

When you make a reservation, please let us know if you would like substitute or exclusive meals because of food-allergy or some disease you have. We will deal with that as much as possible.
*If you will be in trouble without the removal of allergens being not guaranteed, there might be a possibility we may decline to offer the meal with giving the first priority to your safety. We would like you to understand the above and hope you will make the final decision by yourself, thank you.
Reservations and Access
Reservations

Course reservation in advance is needed.
Please make a reservation by phone or through our reservation site before you come.

For reservations and inquiries
Phone: 089-915-6600
E-mail: reserve@dogokaishuu.com

*During business hours, connection may be difficult. We ask for your understanding.

Time slots for course menus

Please choose a time slot for your meal from the following.
Basically we start serving when all in your party have arrived.
Please come together at the reserved time.

①6:00 p.m. start
②7:00 p.m. start
③8:00 p.m. or later start
(As for ③, you can specify a time between 8:00 p.m.~9:00 p.m.)

Cancellation policy

We charge the following cancellation fees if you cancel your reservation on the day or the day before.
We purchase ingredients according to reservations, so please understand.

The day before: 50%
The day: 100%

Access

15-27 Dōgo-yunomachi Matsuyama City Ehime, 790-0842 Japan

If you come on foot

From the Dōgo-onsen main building, pass in front of Asuka-no-yu, turn left at the first corner, and you will find the restaurant. It's about a three minutes' walk.

If you come by car

We have no parking lot for customers. Please use a coin-operated parking lot nearby.
Additional information
Child customers

We accommodate them as much as possible. We have private rooms, so please ask us when you make a reservation.

Smoking

The entire restaurant is nonsmoking. You can smoke outside the entrance of the restaurant.

Business hours

6:00 p.m.~11:00 p.m.

Lunch time use

Please ask us about using the restaurant for lunch.

Dress code

We have no dress code, but please refrain from wearing strong perfume.
Employment Opportunities
Kaishū is looking for staff members to work with us.
Toward a town in the Setouchi where gourmets gather from around the world…
Let's make Ehime, Matsuyama, and Dōgo more popular with our meals.
For inquiries on employment
Phone: 089-915-6600 (contact: Sakamoto)
E-mail: kisei0624@gmail.com
*During business hours, connection may be difficult. We ask for your understanding.
Job openings
Server, Cooking assistant, Sommelier
Types of employment
① Full-time employee ② Part-time employee
Application requirements
Tell us what you like --- I like serving, I like cooking, I like wine and Japanese sake, I like different cuisines,
I like Ehime, etc.
People who have experience in the restaurant business or who speak English will be given preferential treatment.
Salary/Wages
Will be decided taking type of employment, experience, and compensation in previous jobs into consideration.
Hours
10:00 a.m.-11:00 p.m. (shifts)
Compensation package
A range of social insurance benefits
Transportation allowance based on our company's regulations
Additional pay for foreign language skill
Holidays
Summer, year-end and New Year holidays
Other restaurant holidays